One-on-one Program
Do you get stuck in your own thoughts or in contact with others, your partner, colleagues or loved-ones for example? Are you facing a big turning-point? Or do you miss something in your live and are you trying to find this 'something' in stuff, work and/or a busy schedule, without success? 
For people thinking about these questions, I developed a Judge-Softly-Challenge based on Western neuroscience, philosophy, psychology and the Eastern experience based teachings of mindfulness, insight dialogue, non-dualism and Buddhism. You can combine the Challenge with individual coaching, based on your needs.  
You can choose from 2 Judge-Softly-Challenges: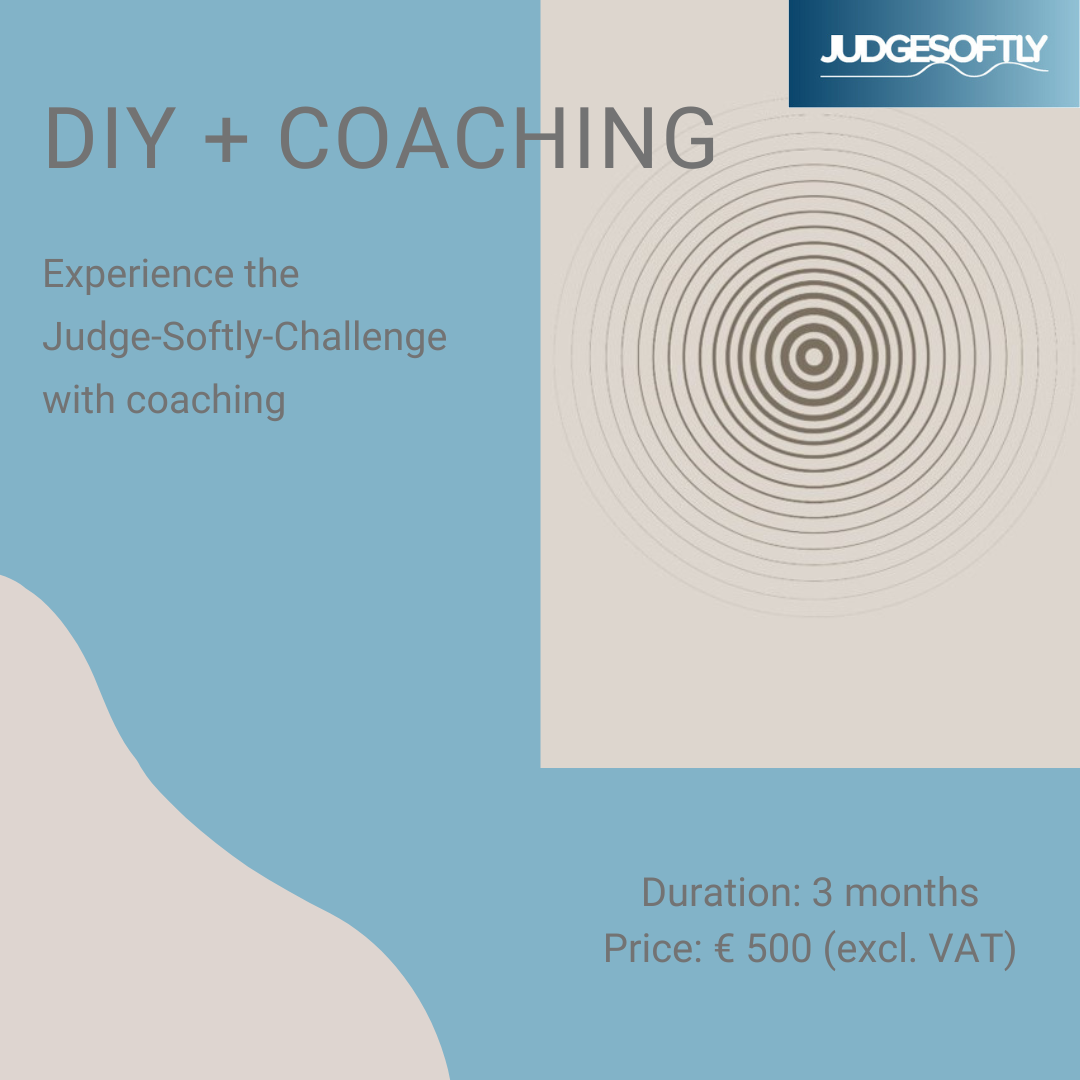 Do It Yourself with Coaching
For three months you'll experience the Judge-Softly-Challenge including four conversations with Anne-Barbara. Read more
By registering for one of the programs you'll receive the Judge-Softly-challenge package with amongst other things a Judge Softly notebook. 
Are you uncertain about your objectives to work with your judgments? Please contact me via e-mail or phone.
You can find more detail about the Challenge and coaching below: 
The Judge-Softly-Challenge aims to overwrite judgmental behavior. In a period of three months you'll walk the path towards judging softly; from realizing, reviewing and accepting to wise communication. 
Every three days at 8 pm you'll receive an email with a question about the previous day and an assignment for the coming days. The question of the day you'll answer by writing with a pen in a notebook for at least 5 minutes. Why with a pen on paper? Because the learning- and transformational process will stick better by writing compared to typing.
You'll do the challenge by yourself, for yourself. Nobody will read what you write down. By writing every day, you'll become conscious of your thoughts and judgments that steer your behavior, feelings and reactions subconsciously.  
After finishing the Judge-Softly-Challenge: 
You'll be able to recognize the judgments about yourself and others, instead of being dragged along by emotions. And instead of behaving in a way you'll regret in hindsight. 

You researched the cause of your judgments about yourself and others and you'll see triggers coming up more clearly. 

You learned to deal with judgments about yourself and others in a friendly way. 

You see the choices you have in your communication and interactions with others and yourself. 

You filled your mental toolbox with tools that make you more mild, wise and compassionate. 
Briefly, after these three months you will understand based on what worldview you act and judge. You'll recognize your triggers and transform from subconsciously judging to consciously judging. From this expanded consciousness you'll be able to make a choice. Will I judge? 
My coaching style is being described as warm, open and involved. During our conversations I make use of my work- and life-experiences and knowledge as a certified Mindfulness Based Stress Reduction trainer and consultant. I won't tell you how you need to lead your live, but will be your mirror. By using exercises, conversations and home-work you'll discover your triggers to judge. Together we'll work towards a pre-defined goal. 
Please contact me for more information: 
Anne Barbara
Tel: +31 6 25221847
Email: ablemmens@judgesoftly.com